News archive
A new badge for finding ODLS in February!
Dear participants,

a new "Pine" badge is being awarded to everyone who has found ODLS in February 2018.
We are glad to announce the names of the crunchers who have received the badge so far:

STE\/E (BlackOps) and nenym (Czech National Team)
FourOh (SETI.USA) and Ralfy (BOINC Confederation)
ClaudiusD (Rechenkraft.net) and europe64 (europe64)
Andreas64 and k4m1k4z3 (Overclock.net)
[AF] Skinny06 (L'Alliance Francophone) and JagDoc (Planet 3DNow!)
Sergey Zhi (Russia Team) and RFGuy_KCCO ([H]ardOCP)
emoga (Overclock.net) and [B@P] Daniel (BOINC@Poland)
JonS (UK BOINC Team) and phoenicis ([H]ardOCP)
[AF>Libristes]MortelKni (L'Alliance Francophone) and fsclavo
polarbeardj (Crunching@EVGA) and Martin Droppa
HK-Steve (Crunching@EVGA) and Vincent Dark (Team China)
vanos0512 (BOINC@Taiwan) and arkiss
Dario666 (BOINC@Poland) and Frenky Picasso (LITOMYSL Boinc Team Czech Republic)
Chris Skull (AMD Users) and OlddanIT (Crunching@EVGA)
damotbe (L'Alliance Francophone) and Dmitriy Otroschenko (Ukraine)
Dan Sargent (SETI.USA) and Stephen Uitti (Project Blue Book)
Michael H.W. Weber (Rechenkraft.net) and robbysites (Crunching@EVGA)
lydy1993 (Team China) and Shmya-2 (Crystal Dream)
GLeeM (TeAm AnandTech) and [AF>Belgique]Mamouth (L'Alliance Francophone)
Crunch3r (BOINC United) and PDW (OcUK - Overclockers UK)
boceli (Czech National Team) and Mumps [MM] (SETI.USA)
LCB001 (Hardware Canucks) and zhouyunbo (Team China)
[AF>FAH-Addict.net]toTOW (L'Alliance Francophone) and Hartmut 53
KWSN-SpongeBob SquarePants (The Knights Who Say Ni!) and ku4jb (Overclock.net)
Boogyman Munster (AMD Users) and ReaDy (Astronomy.Ru Forum)
pons66 (SETI.Germany) and mmonnin (Overclock.net)
firstomega (Rechenkraft.net) and ShmyaCluster (Crystal Dream)
[AF>Libristes]cguillem (L'Alliance Francophone) and EG (SETI.USA)
SEARCHER (BOINC@Pfalz) and declis (Rechenkraft.net)
Dennis-TW (SETI.Germany) and Rhodan71 (L'Alliance Francophone)
Птицы Петрозаводска (Karelia) and MajkPascal (BOINC@Poland)
[AF>Amis des Lapins] Phil1966 (L'Alliance Francophone) and tictoc (Overclock.net)
joe carnivore (Planet 3DNow!) and BritishBob (Overclock.net)
KR Center (Karelia) and purplecfh (SETI.USA)
Sphynx (SETI.USA) and jiri kovar (LITOMYSL Boinc Team Czech Republic)
Skivelitis2 (BOINCstats) and the-who (Team China)
hoarfrost (Crystal Dream) and Natalia (Crystal Dream)
xyzzy (BOINCstats) and manni.deutsch (Planet 3DNow!)
DrBob (USA) and [DPC] hansR (Dutch Power Cows)
forest (Czech National Team) and SerVal (Russia Team)
[AF>Amis des Lapins] Ceclo (L'Alliance Francophone) and cc-smokey (CC-Team)
Stavebni firma Bostik Porici (LITOMYSL Boinc Team Czech Republic) and rebel9
PhilTheNet (L'Alliance Francophone) and Shaman (Czech National Team)
[AF>France>Astro]Julien Leconte (L'Alliance Francophone) and mm67
KPX (Czech National Team) and respawner (Rechenkraft.net)
shiva (SETI.USA) and Daniel (BOINC@AUSTRALIA)
[SG-2W]Kurzer (SETI.Germany) and amazing (SETIKAH@KOREA)
vinn@[CNT] (Czech National Team) and Anguillan Pirate (Anguillan Pirates)
gaballus (BOINC@Poland) and whowhere (AUGE@BOINC)
Sussie (LITOMYSL Boinc Team Czech Republic) and bcavnaugh (Crunching@EVGA)
Skywalker@Athens (Macedonia is Greek!) and sergamena (Russia Team)
Международная база наблюдений комет (Karelia) and Kodeks IT (Karelia)
Conan (Cobar Spiders) and Hoshione (SETI.Germany)
Argento (BOINC@Poland) and Fury1184 (Overclock.net)
Egon olsen (Meisterkuehler.de Team) and Finrond (Overclock.net)
Odd-Rod (BOINCstats) and scole of TSBT (Anguillan Pirates)
b3rl1go (L'Alliance Francophone) and Coleslaw ([H]ardOCP)
Oleg (Russia Team) and RJBakano (USA)
owensse (The Planetary Society) and Enrico29 (Gridcoin)
SergOZ (Crystal Dream) and Tuna Ertemalp (Microsoft)
Cocagne (L'Alliance Francophone) and ale4316 (Ukraine)
[AF>Libristes] Elorak (L'Alliance Francophone) and entigy (UK BOINC Team)
zzuupp (TeAm AnandTech) and LeChat51X (L'Alliance Francophone)
http://vk.com/boinc (Karelia) and Kalomel (BOINC@Poland)
Matthias Lehmkuhl (SETI.Germany) and Bazooka_CZ (Czech National Team)
Ufol (BOINC@Poland) and freestman (Team China)
St.Clair and Steve Dodd (The Planetary Society) and Pushok (Russia Team)
Joern Gerken (Gridcoin) and Vitalii Koshura
22 Feb 2018, 15:20:38 UTC · Discuss

---
Second bunch of January 2018 totals and badges!
Dear participants,

January is over and we summarize the results, that have been received after 9th January - second January results bunch. 2333 results with ODLS pairs have been recieved and they found by 138 participants:

[SG-FC] hl (SETI.Germany) and damotbe (L'Alliance Francophone),
Odd-Rod (BOINCstats) and jozef j (Russia Team)
Ralfy (BOINC Confederation) and Dmitriy Otroschenko (Ukraine),
Daniel (BOINC@Poland) and [H]Skillz ([H]ardOCP),
steverocky (The Final Front Ear) and firstomega (Rechenkraft.net),
[AF>Libristes]MortelKni (L'Alliance Francophone) and xyzzy (BOINCstats),
HK-Steve (Crunching@EVGA) and JagDoc (Planet 3DNow!),
[AF>Amis des Lapins] Ceclo (L'Alliance Francophone) and Hartmut 53,
[AF>HFR>RR] alipse (L'Alliance Francophone) and the-who (Team China),
[AF>Amis des Lapins] Phil1966 (L'Alliance Francophone) and DrBob (USA),
[AF>FAH-Addict.net]toTOW (L'Alliance Francophone) and Andreas64,
Dingo (BOINC@AUSTRALIA) and shiva (SETI.USA),
JugNut (BOINC@AUSTRALIA) and Frenky Picasso (LITOMYSL Boinc Team Czech Republic),
purplecfh (SETI.USA) and [AF>Kirass>MPF] Kikiphil (L'Alliance Francophone),
saiz (Team China) and mikey (The Final Front Ear),
http://vk.com/boinc (Karelia) and LCB001 (Hardware Canucks),
Coleslaw ([H]ardOCP) and ClaudiusD (Rechenkraft.net),
vaughan (AMD Users) and pons66 (SETI.Germany),
Skywalker@Athens (Macedonia is Greek!) and Anguillan Pirate (Anguillan Pirates),
Crunch3r (BOINC United) and philip-in-hongkong,
[AF] Skinny06 (L'Alliance Francophone) and vanos0512 (BOINC@Taiwan),
B Johansson (AMD Users) and GLeeM (TeAm AnandTech),
ReaDy (Astronomy.Ru Forum) and Sussie (LITOMYSL Boinc Team Czech Republic),
Chris Skull (AMD Users) and Argento (BOINC@Poland),
SERGEY (Crystal Dream) and peeta (Czech National Team),
Enrico29 (Gridcoin) and jiri kovar (LITOMYSL Boinc Team Czech Republic),
[AF>Belgique]Mamouth (L'Alliance Francophone) and STE\/E (BlackOps),
Международная база наблюдений комет (Karelia) and arkiss,
Michael H.W. Weber (Rechenkraft.net) and evatutin (kvt.kurskstu),
freestman (Team China) and citerra (Russia Team),
SerGiani (Russia Team) adn Pushok (Russia Team),
Astronomy.Karelia (Karelia) and ShmyaCluster (Crystal Dream),
bill brandt-gasuen and bcavnaugh (Crunching@EVGA),
Conan (Cobar Spiders) and lydy1993 (Team China),
Matthias Lehmkuhl (SETI.Germany) and Kalomel (BOINC@Poland)m
PhilTheNet (L'Alliance Francophone) and PDW (OcUK - Overclockers UK),
[AF>France>Astro]Julien Leconte (L'Alliance Francophone) and fsclavo,
[SG-2W]Kurzer (SETI.Germany) and FourOh (SETI.USA),
Shmya-2 (Crystal Dream) and phoenicis ([H]ardOCP),
boceli (Czech National Team) and Stephen Uitti (Project Blue Book),
hoarfrost (Crystal Dream) and Joern Gerken (Gridcoin),
KWSN-SpongeBob SquarePants (The Knights Who Say Ni!) and fix,
Daniel (BOINC@AUSTRALIA) and Vincent Dark (Team China),
Mumps [MM] (SETI.USA) and gaballus (BOINC@Poland),
McShane of TSBT (Anguillan Pirates) and igos,
ext2097 (SETIKAH@KOREA) and RFGuy_KCCO ([H]ardOCP),
Karelian Center for Gender Studies (Karelia) and KR Center (Karelia)
nenym (Czech National Team) and robbysites (Crunching@EVGA),
Dune Finkleberry (The Final Front Ear) and owensse (The Planetary Society),
respawner (Rechenkraft.net) and Rhodan71 (L'Alliance Francophone)
Stavebni firma Bostik Porici (LITOMYSL Boinc Team Czech Republic) and entigy,
[DPC] hansR (Dutch Power Cows) and bfromcolo (Overclock.net),
UBT - Timbo (UK BOINC Team) and meadoel (BOINCstats),
polarbeardj (Crunching@EVGA) and Odicin (BOINC Confederation),
[SG]ATA-Rolf (SETI.Germany) and Oleg (Russia Team),
Morgan the Gold and JonS (UK BOINC Team),
kavamaken and [AF>Amis des Lapins] Xe120 (L'Alliance Francophone)
cpuid (SETI.Germany) and eisler jiri (Czech National Team),
qiang ge and Wabi CZ (Czech National Team),
ale4316 (Ukraine) and Gallego (Galicia)
Shaman (Czech National Team) and Vit Kliber (Czech National Team),
xıoɴʏᴄ and [AF>Libristes]cguillem (L'Alliance Francophone),
MajkPascal (BOINC@Poland) and Tuna Ertemalp (Microsoft),
vinn@[CNT] (Czech National Team) and Jeff17 (BOINCstats),
Gusek (Russia Team) and Sergey Z (Russia Team),
zzuupp (TeAm AnandTech) and 1scorpion (Czech National Team),
Choljah and Pete Broad (BOINC Synergy),
joe carnivore (Planet 3DNow!) and Dario666 (BOINC@Poland),
sergamena (Russia Team) and SerVal (Russia Team)!

As usual, all participants that found ay least one ODLS pair in month - received a Cloudberry bage!
And thank you for all participants, who donating a computing power to our project!
2 Feb 2018, 19:49:05 UTC · Discuss

---
Technical works on January 28, 9:00-20:00 UTC
Dear crunchers,

on Sunday, January 28, the project server and the website may be unavailable in some time periods. We are sorry for possible inconvenience.
27 Jan 2018, 20:54:00 UTC · Discuss

---
Current results of RakeSearch in graph form
Dear participants of the project,

we start to present the current results in graph form. As we already wrote, the scientific goal of the project is to reveal subsets structures of orthogonal diagonal Latin squares of rank 9. A good form to represent such subsets is a graph. Each its vertice is a single square, and an edge between two vertices means that these two squares are orthogonal. The considered graphs are of great interest when one studies ODLSs with fundamental or applied goals.

With help of the RakeSearch algorithm, we discover separate vertices of such graphs. The RakeSearch algorithm implies that not every possible pair of ODLSs can be found, but only those that can be obtained by rows permutations. Such squares are being "hooked" like jewels among the withered grass. And then, using post-processing, we restore the whole graph.

So far, we have discovered 18 types of such graphs. The first one is the "Necklace". There are multiple instances of each graph type. The most common type is the simple pair. Our special thanks go to Stepan Kochemazov and Eduard Vatutin (evatutin) for their ideas and work used for implementing post-processing programs! Visualization was implemented with Gephi software.

We hope that graph form of results will be interesting to you!
Good luck and happy crunching!
15 Jan 2018, 22:08:08 UTC · Discuss

---
Technical works on January 10, 7:00-8:00 UTC
Dear crunchers,

tomorrow (January 10), the project website will experience a shutdown approx. from 7:00 to 8:00 UTC.
We are sorry for possible inconvenience.
9 Jan 2018, 12:29:04 UTC · Discuss

---
Processing of results obtained in 2018!
Dear participants!

Processing of results obtained in 2018 has started, and we send our congratulations and new badge (Cloudberry - a nice caption for achievement in computing!) to:

[SG-FC] hl (SETI.Germany) and Ralfy (BOINC Confederation),
damotbe (L'Alliance Francophone) and Hartmut 53,
Daniel (BOINC@Poland) and Mumps [MM] (SETI.USA),
vanos0512 (BOINC@Taiwan) and jozef j (Russia Team),
firstomega (Rechenkraft.net) and JagDoc (Planet 3DNow!),
[AF>FAH-Addict.net]toTOW (L'Alliance Francophone) and DrBob (USA),
PhilTheNet (L'Alliance Francophone) and Natalia (Crystal Dream),
bcavnaugh (Crunching@EVGA) and [SG-2W]Kurzer (SETI.Germany),
robbysites (Crunching@EVGA) and ClaudiusD (Rechenkraft.net),
cpuid (SETI.Germany) and [AF>Amis des Lapins] Phil1966 (L'Alliance Francophone),
saiz (Team China) and [AF>Amis des Lapins] Ceclo (L'Alliance Francophone),
pons66 (SETI.Germany) and Michael H.W. Weber (Rechenkraft.net),
Daniel (BOINC@AUSTRALIA) and LCB001 (Hardware Canucks),
shiva (SETI.USA) and Dmitriy Otroschenko (Ukraine),
SERGEY (Crystal Dream) and Dingo (BOINC@AUSTRALIA),
respawner (Rechenkraft.net) and sentient_life (AMD Users),
Shmya-2 (Crystal Dream) and GLeeM (TeAm AnandTech),
owensse (The Planetary Society) and Andreas64,
Tuna Ertemalp (Microsoft) and Joern Gerken (Gridcoin),
phoenicis ([H]ardOCP) and mikey (The Final Front Ear),
[AF>Libristes]MortelKni (L'Alliance Francophone) and UBT - Timbo (UK BOINC Team),
Coleslaw ([H]ardOCP) and [AF>Belgique]Mamouth (L'Alliance Francophone),
RFGuy_KCCO ([H]ardOCP) and Rhodan71 (L'Alliance Francophone),
europe64 (europe64) and ReaDy (Astronomy.Ru Forum),
Chris Skull (AMD Users) and arkiss,
Skivelitis2 (BOINCstats) and lydy1993 (Team China),
ale4316 (Ukraine) and DoctorNow (BOINC@Heidelberg),
citerra (Russia Team) and [AF>HFR>RR] alipse (L'Alliance Francophone),
Henk Haneveld (Dutch Power Cows) and Astronomy.Karelia (Karelia),
purplecfh (SETI.USA) and [H]Skillz ([H]ardOCP),
Международная база наблюдений комет (Karelia) and Odicin (BOINC Confederation),
KR Center (Karelia) and [AF>France>IDF]Lic (L'Alliance Francophone),
Kalomel (BOINC@Poland) and Conan (Cobar Spiders),
rebel9 and scole of TSBT (Anguillan Pirates),
gaballus (BOINC@Poland) and B Johansson (AMD Users),
[AF>Amis des Lapins] Xe120 (L'Alliance Francophone) and freestman (Team China),
Codedependent (Australian Atheists) and jiri kovar (LITOMYSL Boinc Team Czech Republic),
Sussie (LITOMYSL Boinc Team Czech Republic) and JugNut (BOINC@AUSTRALIA),
the-who (Team China) and [AF>Kirass>MPF] Kikiphil (L'Alliance Francophone).
9 Jan 2018, 5:26:28 UTC · Discuss

---
The last part of December results!
Dear crunchers!

We publish a last part of results, received in December which were found by:

damotbe (L'Alliance Francophone) and vanos0512 (BOINC@Taiwan),
scole of TSBT (Anguillan Pirates) and Ralfy (BOINC Confederation),
Bryan (SETI.USA) and [SG-FC] hl (SETI.Germany),
SERGEY (Crystal Dream) and [AF>Amis des Lapins] Phil1966 (L'Alliance Francophone),
Coleslaw ([H]ardOCP) and JagDoc (Planet 3DNow!),
GLeeM (TeAm AnandTech) and Daniel (BOINC@Poland),
shiva (SETI.USA) and saiz (Team China),
jozef j (Russia Team) and sergamena (Russia Team),
[AF] Skinny06 (L'Alliance Francophone) and cpuid (SETI.Germany),
[SG-2W]Kurzer (SETI.Germany) and [AF>Amis des Lapins] Ceclo (L'Alliance Francophone),
Matthias Lehmkuhl (SETI.Germany) and Michael H.W. Weber (Rechenkraft.net),
ReaDy (Astronomy.Ru Forum) and tazzduke (BOINC@AUSTRALIA),
firstomega (Rechenkraft.net) and Andreas64,
[AF>HFR>RR] alipse (L'Alliance Francophone) and Hartmut 53,
[AF>FAH-Addict.net]toTOW (L'Alliance Francophone) and pons66 (SETI.Germany),
ID4 (SETI.Germany) and arkiss,
ClaudiusD (Rechenkraft.net) and Shmya-2 (Crystal Dream),
joe carnivore (Planet 3DNow!) and al@ON (L'Alliance Francophone),
Daniel (BOINC@AUSTRALIA) and SETIKAH (SETIKAH@KOREA),
LCB001 (Hardware Canucks) and bcavnaugh (Crunching@EVGA),
mimeq (BOINC@Poland) and [AF>Kirass>MPF] Kikiphil (L'Alliance Francophone),
gaballus (BOINC@Poland) and [DPC] hansR (Dutch Power Cows),
[AF>Belgique]Mamouth (L'Alliance Francophone) and whowhere (AUGE@BOINC),
Sneaky Pete (Anguillan Pirates) and sentient_life (AMD Users).

As usual, participants that have not found ODLS pairs in December previously, receive the Rowan badge.

Thank you for attention to the project!
8 Jan 2018, 16:04:25 UTC · Discuss

---
RakeSearch project technical update 2018-01-06
Dear participants!

During ~5 months of life, the project has significantly grown up and we want to thank all participants for that. Today there have been processed more than 1.2 mln of workunits (from ~23.3 mln of the entire set), which gave us several thousands of results with "permutational" orthogonal diagonal Latin squares and interesting search for structures constructed by these squares and squares orthogonal to them (like previously published "Necklace"). We automated many tasks which are needed for everyday project work and consumed most of time, and started deeper work with received results.

Also we encountered mismatch of current format of results publishing (as simple HTML plain page with list of ODLS pairs) with their essence and after publishing last results from December we stop to publish it in this form and start creating another interface for viewing, searching and filtering the results. Of course, we keep the tradition of congratulating participants who found the orthogonal squares. And granting them badges, too. :) And, of course, after completion of postprocessing all results will be published - at least in "raw" format.

Another important thing is the optimization of default app. We plan to implement Daniel's optimizations into it, but after setting up results postprocessing because any participant already can download and use optimized application (for many platforms!) by links from the corresponding thread.

Hope that this "technical update" makes the project life more clear to you. Thank you for your participation and happy crunching!
6 Jan 2018, 11:51:38 UTC · Discuss

---
Third part of December results are published!
Dear crunchers!

On the results page we publish a third part of results, found in our project in December. They have been found:

Natalia (Crystal Dream) and Astronomy.Karelia (Karelia),
Daniel (BOINC@Poland) and [SG-FC] hl (SETI.Germany),
damotbe (L'Alliance Francophone) and Phil1966 (L'Alliance Francophone),
Bryan (SETI.USA) and Ralfy (BOINC Confederation),
vanos0512 (BOINC@Taiwan) and jozef j (Russia Team),
firstomega (Rechenkraft.net) and arkiss,
[SG-2W]Kurzer (SETI.Germany) and qiang ge,
saiz (Team China) and adams,
Vitalii Koshura and robbysites (Crunching@EVGA),
xyzzy (BOINCstats) and fix,
al@ON (L'Alliance Francophone) and DrBob (USA),
Daniel (BOINC@AUSTRALIA) and europe64 (europe64),
Fernando Miguel and necavi (BOINC@Poland),
Scortch (Alpha Phi Omega) and kavamaken,
[AF>Belgique]Mamouth (L'Alliance Francophone) and [AF>FAH-Addict.net]toTOW (L'Alliance Francophone),
respawner (Rechenkraft.net) and EarlyBird@Zircons (BOINC@Taiwan),
DoctorNow (BOINC@Heidelberg) and Andreas64m
freestman (Team China) and pons66 (SETI.Germany),
Michael H.W. Weber (Rechenkraft.net) and [AF>Amis des Lapins] Ceclo (L'Alliance Francophone),
Skivelitis2 (BOINCstats) and xTnT (Rechenkraft.net),
Dmitriy Otroschenko (Ukraine) and Hartmut 53,
Odicin (BOINC Confederation) and JagDoc (Planet 3DNow!),
Skywalker@Athens (Macedonia is Greek!) and ReaDy (Astronomy.Ru Forum),
shiva (SETI.USA) and Международная база наблюдений комет (Karelia),
polarbeardj (Crunching@EVGA) and LCB001 (Hardware Canucks),
Mumps [MM] (SETI.USA) and mimeq (BOINC@Poland),
http://vk.com/boinc (Karelia) and [AF>WildWildWest]Sebastien (L'Alliance Francophone),
[AF] Skinny06 (L'Alliance Francophone) and [AF>Kirass>MPF] Kikiphil (L'Alliance Francophone),
GLeeM (TeAm AnandTech) and [DPC] hansR (Dutch Power Cows),
Henk Haneveld (Dutch Power Cows) and Joern Gerken (Gridcoin),
KR Center (Karelia) and Francis Butts (USA),
meadoel (BOINCstats) and tazzduke (BOINC@AUSTRALIA),
Shmya-2 (Crystal Dream) and steverocky (The Final Front Ear),
cpuid (SETI.Germany) and owensse (The Planetary Society),
bcavnaugh (Crunching@EVGA) and hoarfrost (Crystal Dream),
sergamena (Russia Team) and Coleslaw ([H]ardOCP),
Kalomel (BOINC@Poland) and Agus (CANAL@Boinc),
Bloodnok and B Johansson (AMD Users).

As usual, all participants that do not have a Rowan badge - received it! :)
Thank you for your participation and CPU time of your computers - from small netbooks to powerful machines!
30 Dec 2017, 7:53:23 UTC · Discuss

---
Congratulations to the finders of the second part of December results!
Dear crunchers!

New pairs of orthogonal digonal Latin squares found in our project are published on the results page, thanks to their finders:

kashi (BOINC@AUSTRALIA) and Plejaden (Boinc Team Gruppe 2004)
ToyMachine (Overclock.net) and vanos0512 (BOINC@Taiwan)
jozef j (Russia Team) and aendgraend (SETI.Germany)
tito (BOINC@Poland) and Gunnar Hjern
Ralfy (BOINC Confederation) and Michael H.W. Weber (Rechenkraft.net)
SerGiani (Russia Team) and [SG-2W]Kurzer (SETI.Germany)
Paul (Team Starfire World BOINC) and emoga (Overclock.net)
robbysites (Crunching@EVGA) and Opolis (Crunching@EVGA)
Daniel (BOINC@Poland) and HK-Steve (Crunching@EVGA)
Cruncher Pete (BlackOps) and PDW (OcUK - Overclockers UK)
Sergey Kovalchuk (BOINC@Ukraine) and %-0%*(%-0%, %.!%),%.!%)/
sergamena (Russia Team) and Bryan (SETI.USA)
bcavnaugh (Crunching@EVGA) and damotbe (L'Alliance Francophone)
ku4jb (Overclock.net) and gaballus (BOINC@Poland)
[AF>FAH-Addict.net]toTOW (L'Alliance Francophone) and bill brandt-gasuen
mimeq (BOINC@Poland) and ReaDy (Astronomy.Ru Forum)
mmonnin (Overclock.net) and [AF>Amis des Lapins] Ceclo (L'Alliance Francophone)
Sabroe_SMC (Planet 3DNow!) and arkiss
Buckey (BOINC Confederation) and k4m1k4z3 (Overclock.net)
taurec (SETI.Germany) and Joern Gerken (Gridcoin)
Kalomel (BOINC@Poland) and PhilTheNet (L'Alliance Francophone)
polarbeardj (Crunching@EVGA) and JayPi (SETI.Germany)
scole of TSBT (The Scottish Boinc Team) and LCB001 (Hardware Canucks)
Paulteo and Vincent Dark (Team China)
[DPC] hansR (Dutch Power Cows) and RFGuy_KCCO ([H]ardOCP)
ShmyaCluster (Crystal Dream) and Sphynx (SETI.USA)
[AF>Belgique]Mamouth (L'Alliance Francophone) and owensse (The Planetary Society)
Skywalker@Athens (Macedonia is Greek!) and shiva (SETI.USA)
respawner (Rechenkraft.net) and GLeeM (TeAm AnandTech)
lydy1993 (Team China) and Dr Who Fan (BOINCstats)
Odicin (BOINC Confederation) and Kodeks IT (Karelia)
Astronomy.Karelia (Karelia) and necavi (BOINC@Poland)
europe64 (europe64) and Rhodan71 (L'Alliance Francophone)
amazing (SETIKAH@KOREA) and pons66 (SETI.Germany)
sknd (BOINC@Poland) and Karelian Center for Gender Studies (Karelia)
SETIKAH (SETIKAH@KOREA) and [AF>Libristes]cguillem (L'Alliance Francophone)
KR Center (Karelia) and firstomega (Rechenkraft.net)
xTnT (Rechenkraft.net) and Codedependent (Australian Atheists)
Conan (Cobar Spiders) and mikey (The Final Front Ear)
JagDoc (Planet 3DNow!) and Alez (The Scottish Boinc Team)
Soderstromm and Hartmut 53
Skivelitis2 (BOINCstats) and SERGEY (Crystal Dream)
citerra (Russia Team) and Hoshione (SETI.Germany)
saiz (Team China) and Fernando Miguel
fix and WTBroughton
qiang ge and SEARCHER (BOINC@Pfalz)
Mumps [MM] (SETI.USA) and http://vk.com/boinc (Karelia)
[SG-FC] hl (SETI.Germany) and hoarfrost (Crystal Dream)
Daniel (BOINC@AUSTRALIA) and [AF>Amis des Lapins] Fredjke (L'Alliance Francophone)
the-who (Team China) and ClaudiusD (Rechenkraft.net)
tazzduke (BOINC@AUSTRALIA) and [AF>Libristes]MortelKni (L'Alliance Francophone)
Donn Pike (USAF Ret) (Gridcoin) and al@ON (L'Alliance Francophone)
freestman (Team China) and Phil1966 (L'Alliance Francophone)
Merowig and xyzzy (BOINCstats)
Enrico29 (Gridcoin) and Bruce Kennedy (BOINCstats)
ID4 (SETI.Germany) and Chris Skull (AMD Users)
Argento (BOINC@Poland) and kekkonen
Dmitriy Otroschenko (Ukraine) and Andreas64
Matthias Lehmkuhl (SETI.Germany)
26 Dec 2017, 11:33:50 UTC · Discuss

---
"A treasure captured! The "Necklace" subset of orthogonal diagonal Latin squares has been found!"
Early morning of 15 December 2017 with 2 hours and 22 minutes difference, project server received two results for workunit R9_000478253 - from damotbe (L'Alliance Francophone) and Bryan (SETI.USA). Both files are identical (as it must be for correct results) and contain an 8 squares. Many of computation results contain 8 and even more squares, but is this case only first two of them corresponds to usual pair of ODLS, but other 6 squares... were mutually orthogonal! (And, of course, all of this squares were constructed by rows permutation!)

We get a first of squares from this MODLS set and found all (not only "permutation") orthogonal diagonal Latin squares for it, then - all ODLS for "root square" and the squares, found on the previous step, and repeat this process until while we were given a new squares. The results of this search you can see in figure below.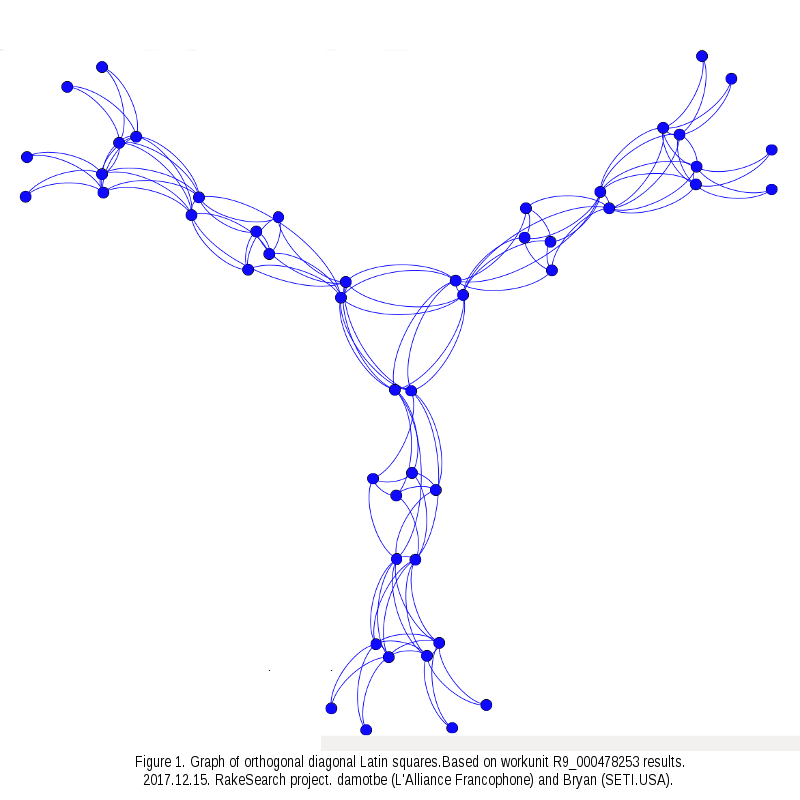 Squares, presented in this graph as nodes and edges denote an orthogonal relationship between squares, lined up into astonishing, symmetrical figure! The core of it is fastened by six MODLS, which are broken into three groups. Each group (originating from two squares) is the basis for four-level branch constructed from 14 squares.

If you are interested in this, you can download this set of 48 squares.
22 Dec 2017, 20:57:05 UTC · Discuss

---
The last part of November and the first part of December results!
Dear participants!

We announce the last part of November results and the first part of results achieved in December. As usual you can view them on results page, but attentive crunchers can notice a new form of results (like R9_000114849, for example) - with one square in row. Square in this line is a square orthogonal to the square in previous column, that written above. This square (in line above) is orthogonal to more than one diagonal Latin squares simultaneously.

Participants that found new pairs of orthogonal diagonal Latin squares (ODLS) in November achieve a "Perelman proof anniversary badge", but for pairs, found in December and later we introduce a Rowan badge - a tree with delicious berries growing in the forests of Karelia and many other regions.
Our congratulations to:

Ralfy (BOINC Confederation) and Paul (Team Starfire World BOINC),
Fornax (SETI.Germany) and [AF>Libristes] Pascal (L'Alliance Francophone),
bill brandt-gasuen and Daniel (BOINC@Poland),
NOSTROMUS (Catalunya) and Michael H.W. Weber (Rechenkraft.net),
hoarfrost (Crystal Dream) and Coleslaw ([H]ardOCP),
Hoshione (SETI.Germany) and Fernando Miguel,
DoctorNow (BOINC@Heidelberg) and Jeff17 (BOINCstats),
Skivelitis2 (BOINCstats) and kashi (BOINC@AUSTRALIA),
LCB001 (Hardware Canucks) and Tuna Ertemalp (Microsoft),
tito (BOINC@Poland) and Conan (Cobar Spiders),
vanos0512 (BOINC@Taiwan) and Buckey (BOINC Confederation),
Joern Gerken (Gridcoin) and taurec (SETI.Germany),
UBT - Timbo (UK BOINC Team) and KR Center (Karelia),
ReaDy (Astronomy.Ru Forum) and ShmyaCluster (Crystal Dream),
[SG-2W]Kurzer (SETI.Germany) and Senilix (Rechenkraft.net),
Kalomel (BOINC@Poland) and Sabroe_SMC (Planet 3DNow!),
PDW (OcUK - Overclockers UK) and owensse (The Planetary Society),
[DPC] hansR (Dutch Power Cows) and joe carnivore (Planet 3DNow!),
jozef j (Russia Team) and Gunnar Hjern,
Dr Who Fan (BOINCstats) and HK-Steve (Crunching@EVGA)

that found ODLS pairs in November, and to:

Daniel (BOINC@Poland) and Wizardling (Dopefish),
Hartmut 53 and Ralfy (BOINC Confederation),
kashi (BOINC@AUSTRALIA) and Buckey (BOINC Confederation),
jozef j (Russia Team) and emoga (Overclock.net),
Fornax (SETI.Germany) and PDW (OcUK - Overclockers UK),
Michael H.W. Weber (Rechenkraft.net) and tito (BOINC@Poland),
k4m1k4z3 (Overclock.net) and ReaDy (Astronomy.Ru Forum),
Joern Gerken (Gridcoin) and Cruncher Pete (BlackOps),
Hoshione (SETI.Germany) and bcavnaugh (Crunching@EVGA),
Sabroe_SMC (Planet 3DNow!) and LCB001 (Hardware Canucks),
Plejaden (Boinc Team Gruppe 2004) and Kalomel (BOINC@Poland),
taurec (SETI.Germany) and HK-Steve (Crunching@EVGA),
[AF>FAH-Addict.net]toTOW (L'Alliance Francophone) and Gunnar Hjern,
[DPC] hansR (Dutch Power Cows) and [AF>Amis des Lapins] Ceclo (L'Alliance Francophone),
Vitalii Koshura and Opolis (Crunching@EVGA),
robbysites (Crunching@EVGA) and necavi (BOINC@Poland),
[SG-2W]Kurzer (SETI.Germany) and KR Center (Karelia),
Dr Who Fan (BOINCstats) and mmonnin (Overclock.net)

that have already found ODLS pairs in December. And our special applause for:

Sabroe_SMC (Planet 3DNow!)
Ralfy (BOINC Confederation)
PDW (OcUK - Overclockers UK)
HK-Steve (Crunching@EVGA)
Daniel (BOINC@Poland)
bcavnaugh (Crunching@EVGA)
emoga (Overclock.net)

- computers of these crunchers found a DLS with more than one ODLS!

Thank you for participation!
3 Dec 2017, 20:24:58 UTC · Discuss

---
Another bunch of ODLS and the new badge introduced!
Dear crunchers!

Another (fourth in November) bunch of orthogonal digonal Latin squares found in our project is published on the results page and we send our congratulations to:

Ralfy (BOINC Confederation) and Daniel (BOINC@Poland),
Dingo (BOINC@AUSTRALIA) and Gunnar Hjern,
Disel (Russia Team) and bill brandt-gasuen,
hoarfrost (Crystal Dream) and fzs600 (L'Alliance Francophone),
RFGuy_KCCO ([H]ardOCP) and [DPC] hansR (Dutch Power Cows),
[SG]ATA-Rolf (SETI.Germany) and Fornax (SETI.Germany),
[AF>Amis des Lapins] Naz (L'Alliance Francophone) and Paul,
Astronomy.Karelia (Karelia) and Frank [SG] (SETI.Germany),
Nosferatu* (Sicituradastra.) and [AF>Libristes] Pascal (L'Alliance Francophone),
[AF>Libristes] ElGuillermo (L'Alliance Francophone) and ale4316 (Ukraine),
shiva (SETI.USA) and ReaDy (Astronomy.Ru Forum),
Vitalii Koshura and Tuna Ertemalp (Microsoft),
Alez (The Scottish Boinc Team) and Fernando Miguel,
necavi (BOINC@Poland) and kashi (BOINC@AUSTRALIA)

Also, several hours ago we introduced a new badge - the Hare and more than 50 participants already caught it!
29 Nov 2017, 7:30:59 UTC · Discuss

---
Optimized applications!
Dear folks!

Having done a great work, Daniel from BOINC@Poland built a set of optimized applications of computing module for our project. You can find them with description in thе corresponding thread Optimized RakeSearch app. Among them, there are also applications that can work under Windows XP.

Thank you, Daniel!
And happy crunching for all!
26 Nov 2017, 11:27:41 UTC · Discuss

---
New badges for total credit!
Dear participants,

today we started to assign badges granted for total credit. They depict local forest animals of Karelia, the region of Russian Federation where the project server is located. For the moment, badges are granted for milestones of 5000 and 25000 credits. More badges will follow soon!

--
Дорогие участники проекта,

сегодня мы начали выдавать нашивки (бейджики) за Total credit. На них изображены местные лесные животные Карелии - региона РФ, в котором расположен сервер проекта. Сейчас нашивки выдаются за пройденные отметки в 5000 и 25000 кредитов. Скоро ожидаются следующие!
25 Nov 2017, 21:23:56 UTC · Discuss

---
And more pairs of ODLS found in November!
Dear crunchers!

Another weekend and a third (in November) set of squares is published on the results page and we send our congratulations to:
Ralfy (BOINC Confederation) and Daniel (BOINC@Poland),
Paul and Kodeks IT (Karelia),
lionelc (L'Alliance Francophone) and bill brandt-gasuen,
amazing (SETIKAH@KOREA) and Jeff17 (BOINCstats),
Nosferatu* (Sicituradastra.) and Hoshione (SETI.Germany),
Fernando Miguel and shiva (SETI.USA),
Fornax (SETI.Germany) and AMDave (AMD Users),
hoarfrost (Crystal Dream) and [SG]ATA-Rolf (SETI.Germany),
Steve Dodd (The Planetary Society) and SerGiani (Russia Team),
ToyMachine (Overclock.net) and Gunnar Hjern,
citerra (Russia Team) and fzs600 (L'Alliance Francophone),
Stephen Uitti (Project Blue Book) and Pascal (L'Alliance Francophone),
arkiss and [DPC] hansR (Dutch Power Cows),
Alez (The Scottish Boinc Team) and KWSN-SpongeBob SquarePants (The Knights Who Say Ni!),
Odicin (BOINC Confederation) and ReaDy (Astronomy.Ru Forum),
fix and Morgan the Gold!

Thank you for participation!
18 Nov 2017, 16:42:34 UTC · Discuss

---
More pairs of ODLS found
Dear participants!

The second bunch of our congratulations we send to:

ReaDy (Astronomy.Ru Forum) and citerra (Russia Team),
taurec (SETI.Germany) and DrBob (USA),
Fernando Miguel and Duce H_K_ (TSC! Russia),
Nosferatu* (Sicituradastra.) and Conan (Cobar Spiders),
Werinbert (Free-DC) and Scotie (Czech National Team),
zoltan blatter (The Scottish Boinc Team) and Dingo (BOINC@AUSTRALIA),
meadoel (BOINCstats) and Sabroe_SMC (SETI.Germany),
GLeeM (TeAm AnandTech) and Fornax (SETI.Germany),
Steve Dodd (The Planetary Society) and owensse (The Planetary Society),
TBox0194 (USA) and [DPC] hansR (Dutch Power Cows),
respawner (Rechenkraft.net) and Sphynx (SETI.USA)!

The project performance observed in the last two weeks achieved a power comparable with a computing cluster of ~600 CPU cores and boosted the speed of our research by a dozen of times! Thank you very much for participation!
12 Nov 2017, 16:54:20 UTC · Discuss

---
Anniversary of Perelman solution and a bunch of ODLS!
15 years ago, on 11 November 2002, Grigori Perelman posted the first of a series of three e-prints outlining a solution of Poincare conjecture:
The entropy formula for the Ricci flow and its geometric applications
Ricci flow with surgery on three-manifolds
Finite extinction time for the solutions to the Ricci flow on certain three-manifolds

In honour of this anniversary (and three months of our project life :)) we start publishing the results found by the crunchers in October and November and granting them badges, specially created for this event.

Our first congratulations we send to:
LCB001 (Hardware Canucks), Mumps [MM] (SETI.USA),
ale4316 (Ukraine), zombie67 [MM] (SETI.USA),
Ufol (BOINC@Poland), tom7up (SETI.Germany),
fzs600 (L'Alliance Francophone), Daniel (BOINC@Poland),
Hoshione (SETI.Germany), AL ADIM (BOINC@Poland),
eclipse99 (BOINC@Poland), [SG]ATA-Rolf (SETI.Germany),
bill brandt-gasuen, Ralfy (BOINC Confederation),
Roadranner (SETI.Germany), KPX (Czech National Team),
AMDave (AMD Users), Paul,
aendgraend (SETI.Germany), fix,
Xperos (Xperos) and Tuna Ertemalp (Microsoft)!

Many of these participants discovered more than one result with ODLS pairs!
And, of course, we applause to Ralfy and the BOINC Confederation team, which catch the lead in Users and Teams standings!

As previously, all found ODLS can be seen at the results page.
11 Nov 2017, 16:23:38 UTC · Discuss

---
New application and tasks coming soon
Dear folks! Processing of the first bunch of workunits (12000 in total) is near to its completion. In the next several days we plan to release a new version of application and to generate at the server side small sets of tasks (about 100 - 250 - 500) and monitor their processing. Even having faced problems and unexpected behavior of the computing process, we were pleasantly surprised of the achieved computing power of the open project BOINC Grid!

Thank you for your participation!
Happy crunching!

--

Дорогие друзья! Обработка первой группы рабочих заданий (всего 12000) близка к завершению. В ближайшие дни мы планируем выпустить новую версию приложения, создать на стороне сервера небольшие наборы заданий (около 100 - 250 - 500) и контролировать их обработку. Даже столкнувшись с проблемами и неожиданным поведением вычислительного процесса, мы были приятно удивлены достигнутой вычислительной мощностью открытого проекта BOINC Grid!

Благодарим за Ваше участие!
Успешного кранчинга!
19 Oct 2017, 20:21:20 UTC · Discuss

---
Source code of the project application
Dear participants of the project,

the source code is now available as described in this thread.

--

Дорогие участники проекта,

исходный код теперь доступен по адресу, указанному в этой ветке форума.
19 Oct 2017, 20:06:59 UTC · Discuss

---
Request to reset the project
Dear participants,

due to the problems with app_version, the tasks received by BOINC clients will probably crash. If you experience the errors, we kindly ask you to cancel them and reset the project. New tasks are being generated with new attributes and should work fine. We increased the estimated flops and the upper bound of flops to avoid errors "Exceeded elapsed time limit".

Also, we are sorry that on October 10 the project server was unavailable because of unplanned power cuts.

We are grateful for you patience and support!

--
Дорогие участники вычислений!

Из-за проблем с app_version текущие задания, скорее всего, закончатся с ошибкой. Если у вас возникают ошибки, то, пожалуйста, отмените текущие задания и сделайте Reset проекта. Новые задания будут сгенерированы на сервере с новыми свойствами и должны работать нормально. Мы повысили оценку числа flops и верхнюю границу допустимого числа flops, чтобы избежать ошибок "Exceeded elapsed time limit".

Просим прощения, что 10 октября сервер проекта был недоступен - произошло несколько отключений электричества из-за аварии.

Очень благодарны вам за терпение и поддержку!
11 Oct 2017, 9:26:04 UTC · Discuss

---
Time to reconsider settings for the new application
Dear participants,

in these days, there is a large flow of various client-side errors, and we are sorry for that.

We do our best to make it work properly. Thank you for your patience!
Also many thanks to all those who support us with their experience and advice.

With best regards,
the searchers team.
10 Oct 2017, 11:05:43 UTC · Discuss

---
Version 7.0 of RakeSearch application has been released.
Dear participants,

we are glad to announce that the beta test application worked fine, and basing on it we released the new version of the main application, RakeSearch 7.0. It is available for Linux 64 bit and 32 bit, as well as for Windows 64 bit and 32 bit. Many thanks to everyone who participated in beta testing and provided advice!
8 Oct 2017, 10:14:20 UTC · Discuss

---
New ODLS discovered in September 2017!
The next group of ODLS has been found in September 2017. You can see the updated pairs of found squares and their discoverers on the results page. Our congratulations to: bfromcolo (Overclock.net), Roadranner (SETI.Germany), Cyph3r (Portugal@Home), zombie67 [MM] (SETI.USA), arkiss and Fornax (SETI.Germany)!

Many thanks to all crunchers!
7 Oct 2017, 17:18:30 UTC · Discuss

---
Beta test application
Dear participants, the test application has been released for Linux (64bit) and Windows (32bit and 64bit). If you like the idea to participate in beta testing, please check the option "Run test applications?" at the "Preferences for this project" subsection in the Project website, and your computer will receive tasks for the test application.
3 Oct 2017, 20:52:29 UTC · Discuss

---
Project server power cut
Dear crunchers! The project server was down since Saturday due to an unplanned power cut. We are very sorry for any inconvenience it caused. Now the server is up again. Thank you for your patience.
2 Oct 2017, 11:09:14 UTC · Discuss

---
First pairs of ODLS discovered!
Yesterday, on the 17th of September, on the 160-th jubilee of Konstantin Tsiolkovsky, we detected the first results of our project, achieved by several of the most active participants. You can see the pairs of found squares and their discoverers on the results page. Our congratulations to: Conan from Cobar Spiders team, zombie67 [MM] from SETI.USA, ShmyaCluster from Crystal Dream, fzs600 from L'Alliance Francophone and vanos0512 from BOINC@Taiwan!
18 Sep 2017, 20:49:30 UTC · Discuss

---
Temporary disabled account creation
Dear crunchers!

Due to today's invasion by many new (empty, bot-generated) accounts, we temporarily disabled both the web account creation and the account creation in general. We also deleted suspicious accounts. If your account was accidently deleted at that time, we are very sorry and you are welcome back.

--
Дорогие кранчеры!

В связи с нашествием ботов, мы временно отключили создание аккаунтов и удалили подозрительные аккаунты. Если Ваш аккаунт случайно попал под горячую руку, то мы просим прощения и с радостью создадим его снова.
16 Sep 2017, 16:07:04 UTC · Discuss

---
News is available as an
RSS feed


©2018 The searchers team